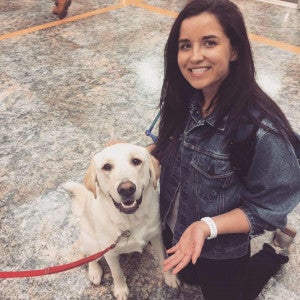 Abby Foster has been with Solar Holler for a little over a year, but it wasn't her first job in the energy field. Having graduated from West Virginia University with a Bachelors of Science in Environmental and Energy Resource Management, Abby's first job was in the natural gas industry primarily in and around North Central West Virginia. She also spent time as a Field Tech with Allstar Ecology on an archeology team digging shovel tests in the Monongahela National Forest. 
Though she got her start in the natural gas industry, Abby always hoped to work in West Virginia's growing renewable energy field, so when she saw the job posting for a Solar Guide, she didn't hesitate to apply. 
Abby was hired as a Solar Guide in February of 2019 and quickly became a valued team member. As one of the first voices folks hear when they call us, Abby has a wealth of knowledge and experience with answering all kinds of questions related to solar and she loves helping people understand the benefits. She has also become our resident, in-house expert on solar grant writing for small businesses and agricultural producers! To date, Abby has helped secure over $40,000 in grants for our qualifying clients! 
Abby has since transitioned into a role as a Solar Designer and also works as a Solar Home Evaluator.  With her experience in so many different aspects of the solar process, Abby is not only a resource for our clients, but she's also a reliable resource for her teammates here at Solar Holler. 
A little more about Abby in her own words… 
If you could have a different job for one day, what would it be? 
Candle maker! I would love to try to create a fancy scented candle.
What would you do even if you didn't get paid to do it?
Community service. My mom ran a food pantry while I was growing up and I really enjoyed being a member of Food Recovery Network in college. Taking food that would be thrown out and donating it to local charities is such a small thing that makes a big difference for people and the planet.
What problems do you regularly solve for your clients?
Most often I solve questions pertaining to whether or not solar is a good fit for a homeowner. I explain what solar can do specifically for a homeowners roof. Based on their roof pitch, roof age, and exactly what that tree in their neighbors yard is shading. I like to dive into the details with folks and hear their goals, what they want and problem solve together for their future.
What's one tool you use in your job that you couldn't live without?
Google Earth! 
What advice would you give to someone that's just starting out in this industry?
Read, read and read some more. After any form of schooling, learning does not stop once you leave the classroom.
Tell us about your pets and/or children!
I have one dog, her name is Maple and she's a sweet boxer/hound mix and my little shadow.
If you could witness any historical event, what would it be?
The Mine Wars.
Do you have any secret talents you can tell us about?
I recently learned how to hand whistle like a football coach.
What are some of your hobbies?
I like reading, hiking, driving around West Virginia, cooking and camping.
What would be the title of your autobiography?
"I'm Trying"