Tucked away at the top of a mountain road in Summers County, West Virginia is Camp Waldo (formerly Camp Lightfoot) a 1940's era summer camp that was originally built as a vacation destination for coal mining families to send their children during summer breaks. 
These days, Camp Waldo has a much different steward. The camp is now owned and operated by Appalachian Headwaters, a unique nonprofit organization that's dedicated to restoring forests, waterways and economic opportunities throughout central Appalachia. 
Now that it's under new management, Camp Waldo is back in use as a children's summer camp with an emphasis on environmental education in areas of science, nature, arts and adventure. And, kids that attend the camp do so at little to no cost all thanks to Appalachian Headwaters!
With a dual goal of revitalizing the local economy while also repairing environmental damage caused by energy extraction industries, Appalachian Headwaters targets three primary initiatives: 
The first is focused on the reforestation of former mine sites. This program serves the growing restoration and non-timber forest product industries in Appalachia and helps expand the mid-Atlantic native landscaping market.

They also operate the

Appalachian Beekeeping Collective

which trains new beekeeper entrepreneurs to maintain honey bee hives for profit. The beekeeping and reforestation efforts directly address an environmental threat while also providing a new source of sustainable income for rural areas. 

The third, and perhaps most foundational initiative of the organization is focused on environmental education, which helps to support their beekeeping and reforestation efforts and is one of the main uses they see for Camp Waldo going forward. 
As an organization committed to helping rural communities while also doing everything they can in the fight against climate change, it was no surprise when Appalachian Headwaters got in touch with Solar Holler for a clean, affordable source of electricity at Camp Waldo, and we were happy to answer the call!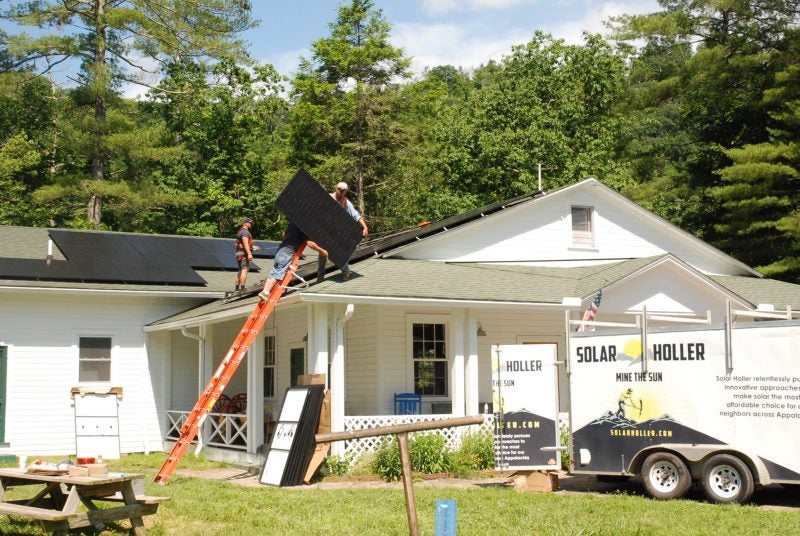 Solar Holler has been thrilled to work with such an awesome nonprofit. Plans for the project have been in the works for over a year and today we are proud to announce the completion of their installation! The final phase of the project was finished last month and Camp Waldo is now the proud owner of one of the largest nonprofit solar installations in West Virginia!
Appalachian Headwaters foresees many uses for Camp Waldo so it was important for us to make sure their solar system was large enough to meet their growing needs. To get started, our first step was to assess the location for sun exposure. For this we used satellite imagery, along with advanced sunlight and shade modeling, and overlaid 30 years of zip code-specific weather data. This allowed us to determine the average annual amount of sunshine at the camp. We then conducted an analysis of their usage history and factored in projected future usage to ensure they had the right amount of panels to cover their needs. Based on our analysis, the installation required a combination rooftop and ground-mounted solar array.

For such a large project we'd usually try to block out at least a week to finish the installation, but our crew managed to knock the whole thing out in just four days!!
Camp Waldo is now generating 96% of their own electricity and they are on track to save more than $225,000 over the lifetime of the system. That's $225,000 they can now use to grow their impact, invest in their mission and give more low income children the chance to experience the fun, education and adventure of summer camp!

When it's not buzzing with happy campers in the summer months, Camp Waldo functions as the education center for those other buzzers — honey bees! Appalachian Headwaters continues to expand their workforce development program with the Appalachian Beekeeping Collective.  The camp serves as the education center for new entrepreneurial beekeepers and, to date, their training and mentorship efforts have produced close to 1000 honey bee hives across ten different counties in central Appalachia.
Using solar to generate their own electricity not only aligns with the core mission of Appalachian Headwaters, it also allows the organization to focus its resources on their important work. Rather than sending more money to the utility company, they can now send more kids to summer camp and provide more sustainable revenue sources for families throughout the central Appalachian region.